Danger Man is making a fun, campy mockumentary about real-life superheroes who are trying to change Portland for the better…or for the weirder.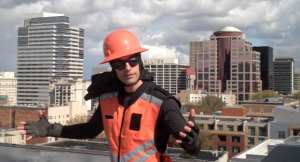 PROJECT SYNOPSIS
4 local real-life superheroes are followed around Portland for a Christopher Guest-style documentary.  We create 4 characters, set them loose with the cameras rolling, and improvise off a treatment instead of following a dedicated script.
WORKING CAST OF CHARACTERS
DANGER MAN
Parkour enthusiast and daredevil.  Removes graffiti in difficult-to-reach places.  Annoys the city bureaucracy with his publicity stunts.
TIMBER JACK
Extreme soccer fan.  Juggler who can do incredible tricks with soccer balls.  Lifelong dream of becoming professional fan for Portland Timbers.
ST JOHNS AVENGER
Crime fighter who doesn't know how to fight.  Has a mask in the shape of the St Johns Bridge.  Wants to abolish North Portland by merging it with Northwest, and puts green "NW" stickers on street signs in St Johns.
THE TREASURE CHEST
Geocaching addict obsessed with pirates.  Leaves treasure maps around the city that are encrypted, and those who follow them to the end win prizes.  Used to live with Danger Man, but they had a falling out over a philosophical difference about the nature of crowds.
This list may be modified as the project progresses, as there are other existing RLSHs in Portland who may be suitable candidates for the project.
OTHER COMPONENTS
MUSIC VIDEO
With Danger Man's comprehensive knowledge of the best places to do Parkour in the city of Portland, and the support of some great local music talent, we will be making a music video to open the piece.  It will feature Parkour athletes doing acrobatic tricks on the buildings and landmarks of Portland in choreographed unison while dressed in superhero costumes.  It is, in short, an urban acrobatic exploration of Portland architecture.
INTERACTIVE TREASURE HUNTS
There are treasure hunts already created for many neighborhood districts in Portland, with clues, puzzles, locations, and prizes all set up.  These onsite, interactive treasurehunts are accessed through smartphones, QR codes (square barcodes) and apps like Foursquare and Gowalla.  The only things that remain to be created are the maps themselves.
WHAT WE NEED
The team needs a few actors, Parkour stuntmen, and costumers.  We also need a producer to keep the project organized, and equipment…so someone with the Field Certification at Portland Community Media would be an ideal candidate.  We need a director who loves superheroes, and wants to work on a fun project for their reel.  We also need a Geocaching enthusiast who has roamed the Portland area and can quickly find dozens of Geocaches a day.
At the moment, we have no funding.  But after the team comes together, the promotion strategies inherent in this project will be more likely to attract sponsors than a 'boy meets girl' love story.